Years ago my dad installed an M-Link V-1 B in my mom's 2001 New Beetle. Oddly, the V-1 B isn't even recommended for this model of vehicle, but I'll let that go for now. The information I'm passing on today is a fix for when your iPod connector breaks from the M-Link cable.
The M-Link's iPod connector end is easy to take apart and once inside I found this: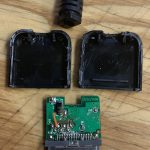 I couldn't tell which wire went where; however, M-Link provided these photos that helped me fix my adapter:
After M-Link sent pictures, I used this site to draft up a wire and pin number table for those who care. I'll format this table later, but wanted to post it now to help folks sooner:
Wire color       Pin number	Apple Pin	Function

black		29,30		1,2		FireWire Ground, –

red		21		10		Accessory indicator/serial enable

white		4		27		Audio output, left channel, +

orange		3		28		Audio output, right channel, +

yellow		19,20		11,12		+12 volt, FireWire Power

green		13		18		iPod receiving line, serial RxD

blue		2		29,30		Audio ground, –

brown		12		19		iPod sending line, serial TxD


* Numbers printed on M-Link V-1 B PCB refer to Apple Pins


Also, I was able to resolver the broken cable and my M-Link V-1 B is working again.