I bought a set of Whirlpool Every Drop Filter 5 cartridges for our KitchenAid KSCS25FJSS01 side-by-side refrigerator. 6 months ago, I noticed the first Filter 5 I installed in refrigerator was really hard to install. Upon removing it 6 months later, I looked at the threads and they were well worn from where I installed it: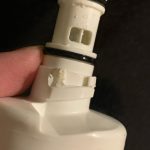 It appears Every Drop made these threads too deep, so I used a file on the next filter I was about to install and removed some plastic as shown in this pic: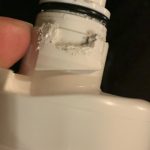 Boom, the filter installed effortlessly this time. I removed about half the plastic at the thread as seen in the closeup above. I'm going to follow up with Every Drop and Whirlpool, this is either a design issue or a manufacturing error that they probably already know about since I'm getting it to it at least 6 months after I purchased them.
** Update 5-2-2022 **
This morning I contacted Whirlpool at 800.442.9991. Brandon with support kindly forwarded me to Whirlpool's "Water Filter Deparment" who then had a female representative review my KitchenAid model and cross-reference it with their filter offerings, eventually confirming the Every Drop Filter 5 is the correct option for my refrigerator.
I explained to her that I purchased a multi-pack of Filter 5's from a local store and removed a filter I installed 6 months ago that required considerable effort and, upon removing it, I noticed damaged filter threading in the pictures above and how it was potentially damaging my refrigerator housing. I told her how I have since modified the threads and offered her pictures on my blog, but she said she had "no access". She continued that she has no access to the supplier's quality control for these filters since it is a separate company from Whirlpool, she offered to replace my filters for a discount, and she would "add a note to my file" about our exchange. I told her I didn't care so much about a replacement filter or a note to my file as I wanted Whirlpool's filter supplier to know that these filters are not being manufactured to specification and that they could be damaging housing on other people's older refrigerators. I offered to send her an unopened filter for Whirlpool's inspection to correct the matter. Prior to this I should have requested her name again, but she eventually hung up on me and was not interested in escalating the issue I was observing. Surely someone at Whirlpool cares, I may try other channels.
** Update 5-6-2022 @ 11:00 A.M. CDT **
This morning I spoke with Whirlpool's support specialist, Diane. She informed that counterfeit products are sold by others. I purchased my filter from Amazon and a couple others from a local store; however, she said both of those channels are not authorized resellers. I'm a bit surprised, as my Amazon order says the seller is "Amazon.com Services LLC", which most manufacturers allow – not Whirlpool.
So, if you want a guarantee with your Whirlpool/Every Day Filter 5, only buy it from Whirlpool. Since my filter has threading that is too large, Whirlpool is basically chalking this up as a counterfeit seller. I may take this up with Amazon, next.
** Update 5-6-2022 @ 11:30 A.M. CDT **
Whirlpool website list 30 authorized resellers around me and presumably includes Amazon if they are the authorized reseller. I call Whirlpool back and this time reached Toni, she's looking into why Diane told me the information above.
Toni came back on the phone and said I will have to take this up with Amazon. I told her that's fine, but when I take it up with Amazon, they tell me to take it up with Whirlpool.
I told Toni I'd push Amazon on it again. To do so, I asked her if she can send me the warranty that Whirlpool would offer on this filter if I had ordered it from them. She said she'd check with her supervisor and get back to me. I told her I want an email copy, whether it is 6 months or whatever, I want to see it in writing.