My above-referenced machine has a third party SSD inside of it, which when updating to Monterey through up this error message: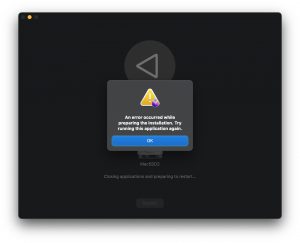 To get around this, I happened to have an original Apple SSD that came with another MacBook Pro. I opened the MacBook Pro, removed the 3rd party SSD, inserted the original Apple SSD, and then put the 3rd party SSD in a USB enclosure.
Next, boot the MacBook Pro while holding the option key down. Then, choose the "macOS Install" disk, which was created when the error message shown above was thrown.
Your Mac will probably restart at least 3 times all on its own, this is ok. After the restarts are done, you'll be booted to the desktop of your 3rd party SSD that is now in the USB enclosure. Re-launch the Monterey Installer and you'll now be able to install the 3rd party SSD in your USB enclosure. When the installation is finish (about an hour), shut the machine down and move the 3rd party SSD back inside your MacBook Pro. Press the power button to boot and be sure to hold the option key down to choose your internal 3rd party SSD.
Kind of a hassle, but it works.