The above-referenced color laser printer has been a beast of a machine, easily the best color laser of the three I've owned, including an Apple Color LaserWriter and a Samsung CLP-415NW. The Brother is now over 4 years old and well off of its warranty, yet its still on the puny original toner cartridges that came with it. Part of that is due to the addition of these reset gears (search eBay for "Reset Gear for Brother TN331 TN336 MFC-L8600CDW HL-L8250CDN L8350CDW") that tell the printer to keep going because plenty of toner remains: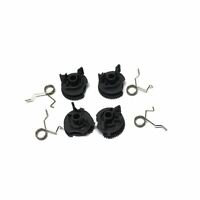 Lately, I've noticed prints have been looking dirty, see left picture below, there is extra black toner all over the page giving the paper a gray look and some vertical black streaks are present in the middle. Cleaning the printer's four scanner windows and four corona wires helped a little, but the output shown on the left, below, remained.
Each toner cartridge has a gear that slowly rotates over the life of the cartridge. The printer reads this gear and guesses how much life and toner remain. When I covered this gear with a reset gear, I had effectively told the printer "New cartridges have been installed!", when in fact the same old cartridges were still in place. As a toner cartridge ages, it allows more toner to come out, which is what I was seeing in the picture on the left, below.
The fix is easy, just tell the printer to update its color calibration. The color calibrated procedure helps the printer adjust its voltage and reduce the amount of black toner that is released. Here's the procedure and all you need is access to the printer:
1. Press any key on top of the printer, near its LCD screen, to wake it up
2. Press the "down arrow" button 6 times, the "OK" button 3 times, and the "up arrow" one time.
The printer will run through its color calibration process, which takes about a minute. After it finishes the calibration, try printing again. The printed output on my machine went from left (before color calibration) to right (after color calibration):