If you enjoy using older Apple AirPort routers and use more than a couple in your house, this post may be for you. Ridiculously enough, I've got an old AirPort Extreme and three AirPort Express (AE) routers in the house all sharing out the same SSID, "SchwieNation". The multiple AE routers aren't so much to extend the massive network, but to give the occupants AirPlay for streaming music.
The AirPort Extreme router nestled away in the wiring closet in the basement is creating a 5 Ghz N-only network and the lowly AE routers scattered throughout the house are set to non-bridging mode and sharing out the same network SSID over 2.4 Ghz. Lately though, I noticed that just about all of the devices in our house were joining the same AE router in the back room and it was causing significant network congestion on our location network and reducing internet download bandwidth.
Devices in our house are running macOS Sierra, which Apple deprecated the 'airport' command line's ability to join a specific BSSID on your network (this means, the ability to join a specific wi-fi router on your network). In Sierra, it seems a Mac just joins the router with the strongest signal.
All reports on the web indicated that the workaround is to create separate SSID's or network names, one name for your 5 Ghz network and a separate name for your 2.4 Ghz network. I didn't want to do this, as I have several older 2.4 Ghz wi-fi internet of things devices like security cameras, garage door openers, etc. and I didn't want to have to tell all of them to join a separate network SSID.
The workaround I came up with was to use open the AirPort Utility and connect to the AE router that had all the wi-fi clients in the house. After connecting to it, I hit the Network tab and then placed a check in the box for "Network Access Control". Then I clicked "Timed Access Control…" and entered in the IoT devices that I wanted to have access and blocked all other users – doing this allowed the legacy devices to connect, but rejected the newer 5 Ghz devices: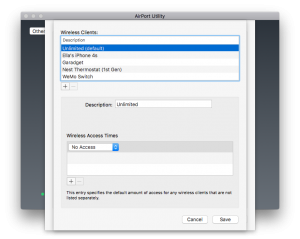 Now all the newer devices automatically connect to the AirPort Extreme on 5 Ghz with improved bandwidth (about 10x better throughput in our unscientific testing) and the legacy devices are still happily connected to the older AE router at 2.4 Ghz.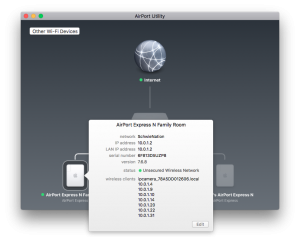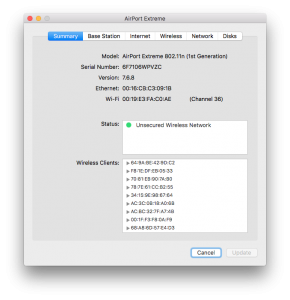 Problem solved!