If you're a TMO user, you might already know that you can get an hour of free inflight wifi, but you can get a little more time if you know another TMO phone number and you have another device available, like a laptop or tablet. Even non-TMO customers with a wifi capable device can get access as long as they know a valid TMO phone number.
Test it out:
Fire up Safari on a Mac (or another fine browser on another device)
Change your User Agent to  "Safari – iOS 10 – iPhone" ("Safari – iOS 10 – iPad" might work too)
Point your wifi to join "gogoinflight"
Paste the following address in your address/goto bar, but do not press "return" just yet: http://airborne.gogoinflight.com/gbp/tmoValidate.do?flightNumber/

DAL884

/flightOrigin/

SAN

/flightDestination/

MSP

/tailNumber/

N917DN

/macAddress/

g3:2k:ad:bc:16:63

/clang/en_US/client/tmo
Replace the red text with information from the device you wish to activate and information from the flight you are on. The correct tail number and destination/arrival codes don't seem to matter, but I'm assuming the MAC wifi address does so transfer it carefully from your wifi (PC users you're on your own, but Mac users go to the Apple Menu->System Preferences…->Network->Wi-Fi->Advanced… and copy the Wi-Fi Address at the bottom of the window)
After updating the link, load the address by pressing "Return".
Follow the website prompts and enter a valid TMO phone number and the CAPTCHA, as shown below: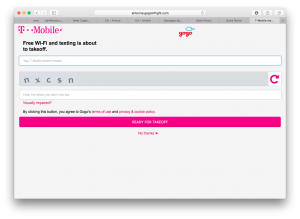 *7-27-2017 UPDATE* Worked on Delta flight 1876 from PVD to DTW. For step 2, used the following link:
http://airborne.gogoinflight.com/gbp/tmoValidate.do?flightNumber/DL1786/flightOrigin/PVD/flightDestination/DTW/tailNumber/N917DN/macAddress/F8:1E:DF:EB:05:33/clang/en_US/client/tmo
My father-in-law might be proud to hear me recommend: considering recording the tail number of the next plane you board, in case it has Gogo Wifi available.